Welcome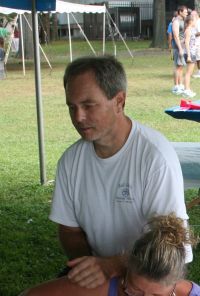 Welcome to my Website! If you're looking for a professional massage therapist, you've come to the right place.
I am a 1996 graduate of Connecticut Center for Massage Therapy. I have worked in physical therapy and spa settings as well as on site chair massage at events or offices.
I have studied Thai Massage with Rick Haesche of Bodymind School of Thai Massage since 2007, and continue to study and assist with classes.
I am trained in a variety of modalities, and you can click on the "Services & Rates" page to learn more about the various techniques I use in my work.
Also, if you'd like to set up an appointment with me or sign up for my e-mail newsletter, click on "Contact Me" and send me a message. I will get in touch with you to confirm the details of your appointment, and also answer any questions you might have.
Thanks for visiting, and have a great day.
To schedule or buy gift certificates use this link.
https://billgibbsmassagetherapy.clinicsense.com


Cancellation/Late Policy
You are responsible for remembering your appointment. You will receive email confirmation at the time you schedule and also two days before your appointment (check your spam/junk file and make sure I have an updated address for you). You can also sign up for a text message alert four hours before your appointment.
If you can't make your scheduled appointment please call, text, or e-mail as soon as possible. If you do skip your appointment and don't contact me beforehand I reserve the right to charge 50% of the cost before scheduling your next appointment.
Also, if you're running late please let me know. I will make every effort to see that you get your full amount of time, but sometimes it's just not possible. If you are more than 15 minutes late and have not contacted me I will assume you're not coming in.